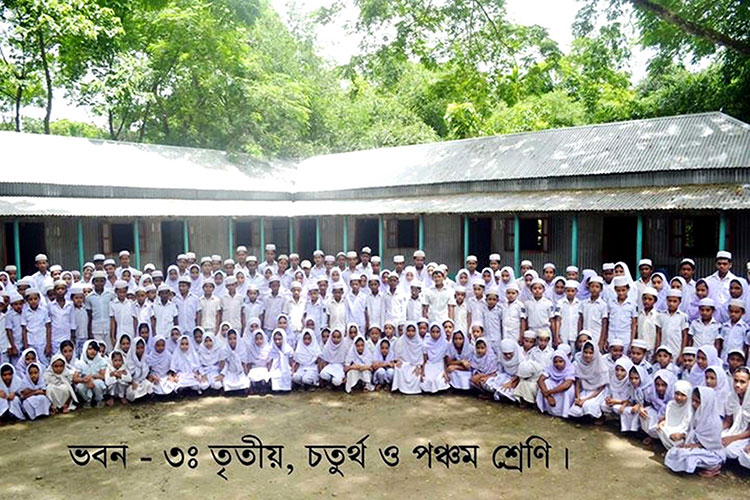 The Prophet Muhammad (SAW) said- "Allah, His angels and all those in Heavens and on Earth, even ants in their hills and fish in the water, call down blessings on those who instruct others in beneficial knowledge."
Hence, we aim to provide children the best possible education available anywhere around the region in an Islamic environment by adopting supportive teaching techniques conveyed by qualified teachers. Our premier's intention is not only to provide formal education but also to develop the child into a complete, responsible person. The institute will nurture the student's personality towards the best moral conduct, Islamic attitudes and self-discipline in accordance with the lessons of the curriculum and will encourage him/her to develop as contributor to the well-being of society and of humankind in general. In this way, the students will learn how to fulfill their obligation towards the society and to worship Allah in the manner that the Quran and Allah's messenger (saw) have prescribed.
We aim to work together with the parents in providing a friendly, thoughtful, stimulating environment in which the students are encouraged to reach their full potential. We try to give pupils understanding of Taqwa (fear of Allah) and instill in them a sense of personal responsibility and accountability for all that they do. Premier will endow students with the knowledge and skills that will enable them to advance further towards higher education, gaining qualifications beneficial to themselves. Thus, we provide an education that caters for every aspect of moral, physical, intellectual, and spiritual development.
Our Mission & Goal
The mission of Bornamala is to make meaningful contribution to the national development through its teaching, research and other related activities. It's aim is imparting an education that is resonance to the society's need; is also able to develop creative personality and actively contribute for learning, understanding and acquiring of knowledge.
The goal of Bornamala is to ensure quality education which will equip the students with necessary skill and knowledge for leading the country in its path to development. Along with this, the institute will continuously provide an environment for faculty development. Bornamala will strive to ensure a high academic standard by carefully selecting high quality faulty, utilizing modern and effective instructional method and aids and also by continuously monitoring modern evaluating all the pertinent activities and systems.